Fox Commons Art Gallery, housed in The Dream Institute building, has quarterly exhibits on varying themes. The openings typically are in concert with special Dream Institute events, such as our Equinox and Solstice plays or poetry readings. Gallery hours coincide with Dream Institute events for that entire season. The Gallery is not usually open to the public, but exhibiting artists are welcome to hold the Gallery open to host their own event. Artists are often recommended to us; we also welcome submissions of slides, photos, or jpgs.
Max DuBois    Night Vision
Viewing Max DuBois's work is like seeing darkness illuminated. It's a rare artist who successfully uses shades of black as the matrix or medium through which forms seem to emerge from the void. Her monotypes are subtle yet dramatic, stark yet lush, and what they depict is familiar yet unknown, singular yet universal. They cast a nocturnal spell captivating the viewer with their power and their mystery.
An artist since age eight, Max claims that school "almost ruined it." Also trained as a graphic artist, she came to California from Idaho in the 1980's and resides in Santa Rosa, where her studio and gallery are in the south A street art district.
Fox Commons Gallery is open before and after our regular scheduled programs, on Tuesdays and Thursdays 12noon-1pm, or by arrangement by calling (510) 845-1767 or emailing the office at dreaminstituteca@gmail.com.
Previous Exhibits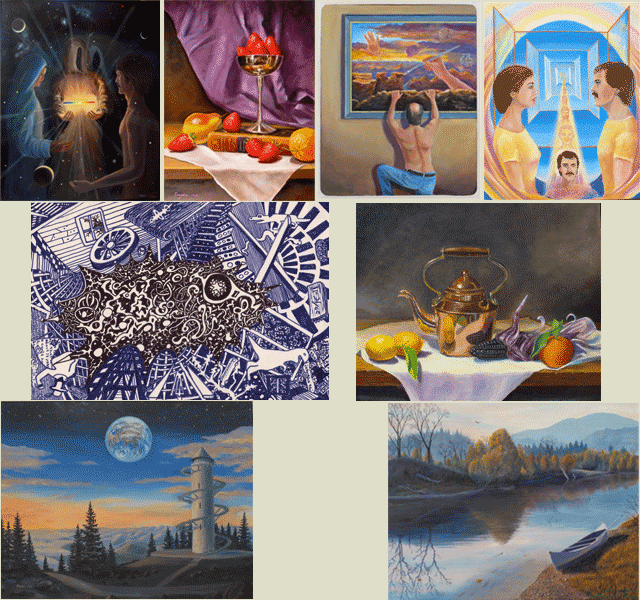 Eric Snyder, paintings, left to right, top to bottom: Light of Past and Future, Silver Cup and Fruit, Hands, Dream of Past Lives, Mindscape, Kettle and Corn, Earthrise,  Autumn on Russian River.

Todd Pickering, Photographs
Cathy Coe,  left to right: Crazy Shapes 1, Crazy Shapes 2, Crazy Shapes 4

Arline Rodini, left to right: ; Autumn Equinox, Turtle Crossing, Santa Lucia

Ruth Gendler, left to right: Philosophers of Love, Bowl of Mystery, and Bones and Beings—Salmon Bird

Andreas Schneider, carved and painted hardwood: left to right: The Age, The Swimmer, Icon

Edith Hillinger, watercolor, two images from Petal Series

Jean Hearst, watercolor and acrylic: left to right: Landscape D, Motion 1

Virginia Rigney, ceramic figures